Oilcloth tablecloths were first popular in the 1950's. And while many of us will always associate them with sugary tea and sandwiches with our grandparents, the wipeable tablecloth is now enjoying something of a revival. So, what is it about oilcloth that we love so much and how does it compare to a tablecloth made from PVC?
Why choose an oilcloth tablecloth?
When it comes to tablecloths, people can confuse oilcloth with PVC. And it is easy to see why. Wipe clean tablecloths often are often described as PVC tablecloths, Oilcloth Tablecloths and we've even seen PVC oilcloth tablecloths!
So, to set the record straight, a PVC tablecloth is 100% plastic, so is man made and has a slightly more rigid feel to it. Oilcloth fabric is made from a woven cotton and is covered with a polyvinyl chloride to create a waterproof coating. It is usually softer and more malleable than PVC.
Are oilcloth tablecloths better than a PVC tablecloth?
There are some advantages of oilcoth over PVC, but it is very much down to personal choice. Oilcloth tablecloths are usually more expensive than PVC, but the advantage is that they are usually less stiff. This means they give a softer drape over the edges and corners of your table, resulting in a more attractive, stylish finish. PVC does drape, but not to the same extent as oilcloth. In addition, an oilcoth will last longer due to the strength of the cotton weave.
An oilcloth tablecloth, like PVC, is easy to wipe clean. It saves on the laundry, and it doesn't have to be put in the washing machine, and it certainly doesn't need to be ironed! Plus everyday food and drink spills, can be quickly and easily cleaned up with a damp cloth. In our experience, the only things that will mark a oilcloth tablecloth are those things that would mark any other surface, biro pen, turmeric and food with added colourings. General maintenance is therefore very low.
The second reason for oilcloth tablecloths continuing growth in popularity is the enormous range of patterns and colours available. Where once, oilcloths were limited to a small range of plains and florals, you can now choose from an emormous spectrum of colours and patterns to suit all tastes. Our alium oilcloth tablecloth range are particularly popular, as are our big spotty designs and eye catching animal prints. Even our vintage style grandma's favourite offers a modern twist on traditional designs.
Because we have specialised in wipeable tablecloths for a number of years, our range is one of the most extensive available, and now includes in excess of 300 designs, with more being added all the time.
It is even possible to get designs to suit special occasions - our Christmas wipe clean tablecloths are hugely popular every year. We particularly like the Woodland Christmas pattern.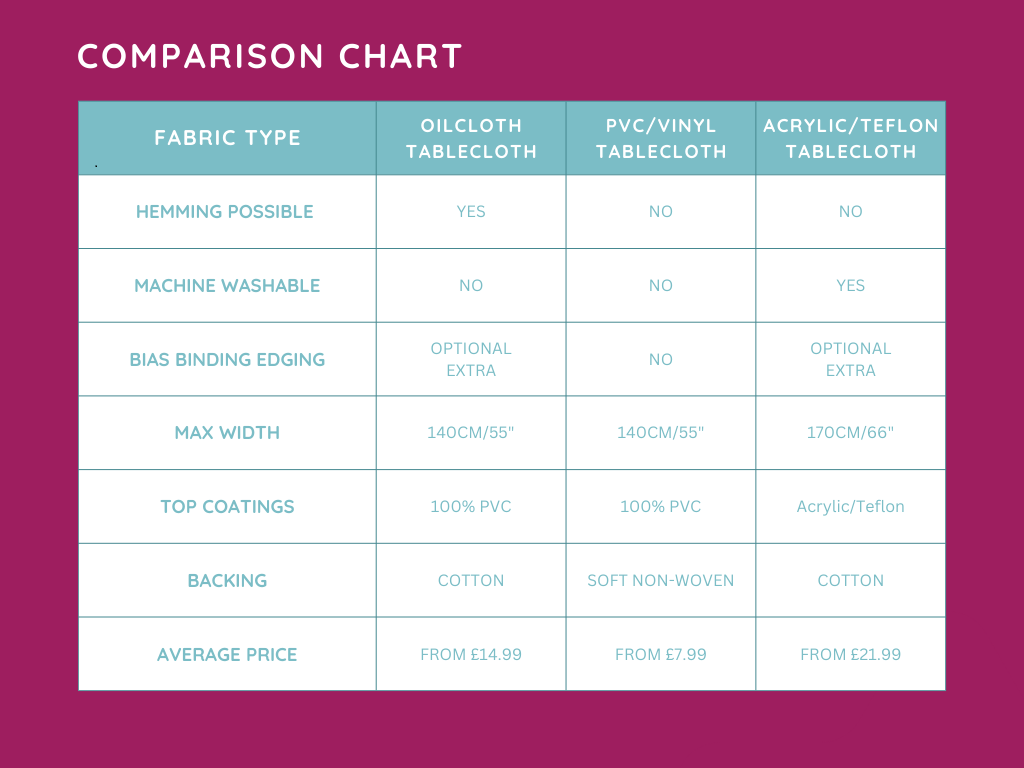 How do we make our oilcloth tablecloths?
We love hunting out new fabrics which will make great tablecloth designs. Once we've chosen fabrics we want to include in the range, they undergo a process to create rolls of oilcloth. When a customer places an order, we use our specialist equipment to cut the oilcloth according to the dimension of each customer's tablecloth.
Want to know more? Please do not hesitate to call us, we'd be happy to help and advise.