These cute gnomes are so easy to make and the family can help too. If you chose to have your Wipe Easy cloth delivered on a cardboard roll to prevent creasing, you can slice some rounds from this to use for their stumpy bodies. Otherwise, you can use the cardboard roll from inside toilet or kitchen paper. Why not make a whole family of different sizes and you can arrange them on a wooden board for a festive table decoration. You can use different coloured felt to match your Christmas Wipe Easy tablecloth.
What you need
Cardboard roll
Felt fabric – red and white
Paper for cutting template
Super chunky wool – white or cream
Small wooden bead – approx 10mm
White mini pompom
Glue
How to make
To make the body, take the cardboard roll and cut a 4cm ring.
Cut a 4cm strip of white felt and glue it on to the cardboard ring.
To make the hat, first make a paper template. Decide the height you want the hat, double this measurement and draw a circle on the paper with that diameter. (I wanted a 14cm high hat, so drew around a plate with a 28cm diameter.) Fold the paper circle into ¼'s and cut out 1 of these sections.
Lay the ¼ section template on the red felt and use as a guide to cut out the shape.
Make the felt into a cone shape, checking that will be large enough to sit on top of the ring. Glue the seam of the cone and use a clothes peg to hold it in place until dry. Cut off the very tip of the cone and glue the mini pompom on the top. Put the hat to one side whilst you make the beard.
Take the wool and wrap it around 4 fingers about 8 times. Remove from your fingers, tie the top with wool and cut the loops at the other end. Separate the strands of wool if you want your gnome to have a curly beard.
Repeat until you have made 4 bundles of wool.
Run glue along the top of the cardboard ring and stick the wool bundles with the tied ends just overhanging towards the middle of the ring. Spread out the wool to ensure the beard is even all the way around.
Run glue around the inside rim of the hat and stick on top of the beard, with the seam at the back.
Glue on the wooden bead just below the hat.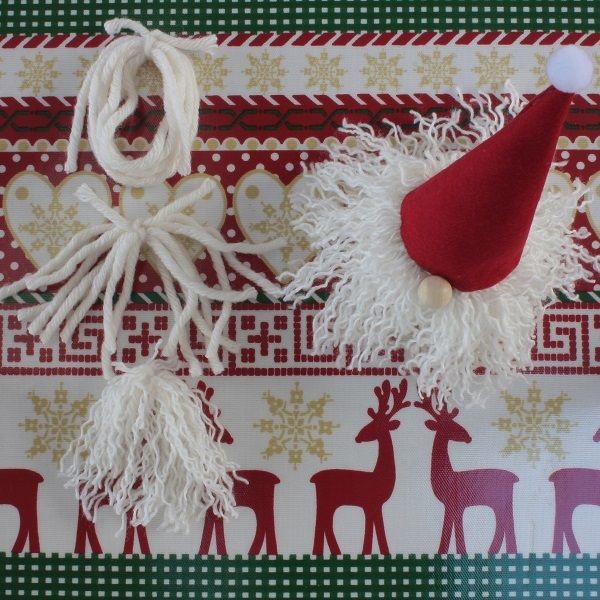 Have fun! The tablecloth featured is Christmas Reindeer. Shop all Christmas Tablecloths.
Written and styled by Lottie Francis at Look To Cook