Who doesn't love the iconic design of William Morris? While you'd have to go to places like the V&A in London, or the Metropolitan Museum of Art in New York to see the originals, you can enjoy the design every day in the comfort of your own home with a fabulous wipe clean tablecloth!
Who was William Morris?
William Morris (1834 – 1896) was considered the leader of the British Arts and Crafts movement. He was also a poet, artist, philosopher, typographer and political theorist.
According to the william-morris.co.uk website, 'In 1861, with a group of friends, he started the decorating business Morris, Marshall, Faulkner & Co. which provided beautiful, hand-crafted products and furnishings for the home. This was highly controversial at the time as it denounced the 'progress' of the machine age by rejecting unnecessary mechanical intervention. Influenced by the ideas and writings of Thomas Carlyle and John Ruskin, who sought to redress class inequality and improve society by reinstating the values of the past, Morris was motivated by the desire to provide affordable 'art for all.'
He was famously quoted as saying: "I do not want art for a few, any more than education for a few, or freedom for a few."
The company today
Today, the company is owned by Walker Greenbank PLC. Wallpaper manufacture takes place in Anstey in Loughborough and fabric printing takes place in Standfast and Barracks in Lancaster.
As well as original designs, the company produces new interpretations to create up-to-date fabrics and wallpapers with timeless appeal.
Enjoying William Morris designs every day
By choosing a William Morris wipe clean tablecloth, you can enjoy these fabulous designs in your home every day. We've stocked a large range of William Morris wipe clean tablecloths for several years now, and they remain one of our most popular ranges.
We have five William Morris wipe clean tablecloth designs to choose from.
Strawberry Thief is one of the most recognised William Morris designs. It was inspired by the thrushes which Morris found stealing the fruit from his kitchen garden. You can choose Strawberry Thief Crimson or Strawberry Thief Slate to match your colour scheme.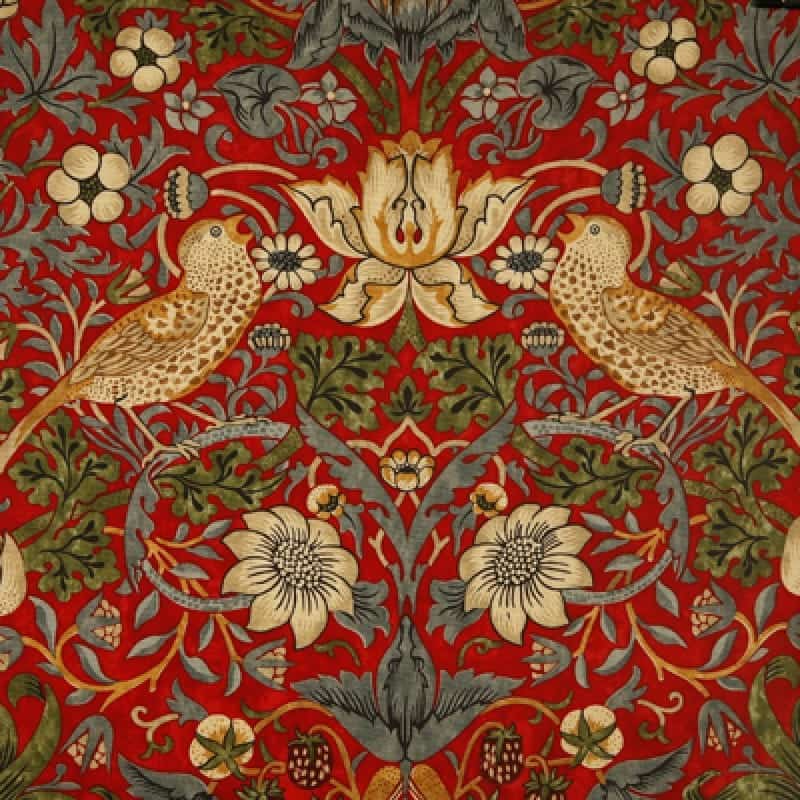 Willow Bough Green is also a well-known William Morris fabric, it was designed in 1887.
It's likely you'll also recognise William Morris Golden Lily which makes a beautiful wipe clean tablecloth design. Considered one of Morris's greatest legacies, this striking design features entwining lily stems and tendrils.
And finally, there's William Morris Fruits Major which looks stunning in both modern and traditional kitchens. The combination of colours is particularly beautiful, we think.
We hope you enjoy browsing our collection of William Morris wipe clean tablecloths. If you need help when choosing, please get in touch. Don't forget, you can order free samples to ensure you're making the right choice for your home.