HOW TO MAKE AN UMBRELLA HOLE IN A TABLECLOTH
An oilcloth tablecloth can look great on your outdoor table, but if you want to use your sun shade you'll need a patio tablecloth with a hole.
Garden tablecloths with patio hole – DIY option
It is possible simply to cut a hole in an oilcloth or PVC tablecloth with a pair of sharp kitchen scissors being careful to get it in the centre, but we wouldn't recommend doing it yourself. Not only do you risk tearing the material but it's not easy to get a neat, attractive finish.
Let us get it right for you!
A few years ago, we began offering a parasol hole cutting service, so you can receive your tablecloth ready to use on a patio table. Before placing an order, you can specify whether you want us to cut a plain hole or whether you want us to edge the hole with a brass-coloured or silver-coloured ring. Holes can be cut at 39mm or 64mm in diameter, giving you the perfect fit for your table.
A Velcro opening makes life even easier
Since then, we have added the option of having a Velcro opening added to your tablecloth so it's super-easy to put on or take off without the need to lift your umbrella out of its hole. Again, you simply select this option from the drop-down menu before placing your order.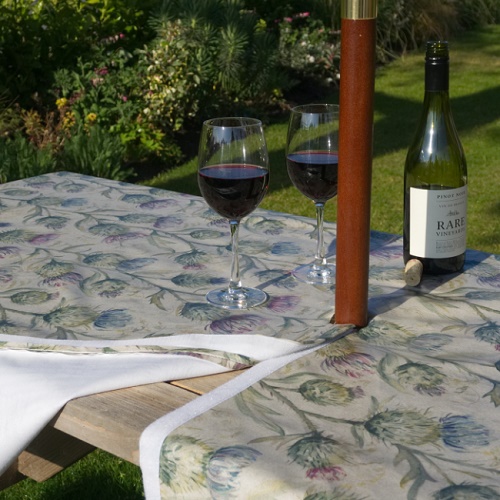 A neat finish for your garden tablecloth
Because wipe clean tablecloths are so long-lasting, we believe it's worth getting this right from the outset. So, while you can 'DIY' a patio tablecloth with hole, you might prefer to leave it to us to get it just right on your behalf.
Find your perfect garden tablecloth with parasol hole, browse All Designs. You may also like to see customer photos for more garden tablecloth inspiration. And don't forget to try our latest recipe – perfect for outdoor dining – honey drizzled chorizo, padron peppers and halloumi kebabs - delicious!